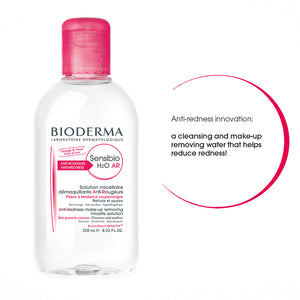 Sensibio H2O AR is the 1st make-up removing micellar water that mimics the skin's natural composition for perfect make-up removal and total respect for even the most sensitive skin. It also inhibits redness, by biologically regulating the factor responsible for vasodilation.

The Sensibio H2O micellar waters are the 1st and only dermatological micellar waters perfectly compatible with the skin: Their fatty acid esters, the constituent elements of micelles, are similar to the phospholipids of the skin cell membranes and naturally help rebuild the skin's hydrolipidic film.

Its exclusive, innovative Rosactiv™ patent directly acts on VEGF, one of the main factors responsible for the dilation and weakening of skin capillaries, sources of redness.

Cucumis sativus extract instantly soothes.
The dermatological anti-redness micellar water cleanses, removes make-up, soothes.
Gently cleanses and removes make-up from the face and eyes.
Reduces and prevents redness.
Soothes and decongests.
Very good tolerance - Non-rinse - Unfragranced.
Aqua/Water/Eau, Peg-6 Caprylic/Capric Glycerides, Aloe Barbadensis Leaf Extract, Cucumis Sativus (Cucumber) Fruit Extract, Mannitol, Xylitol, Rhamnose, Fructooligosaccharides, Lecithin, Ginkgo Biloba Leaf Extract, Camellia Sinensis Leaf Extract, Propylene Glycol, Disodium Edta, Cetrimonium Bromide, Sodium Hydroxide, Citric Acid.
Morning and/or evening

1. Soak a cotton pad.
2. Gently cleanse and/or remove make-up from your face and eyes.
3. Re-apply until the cotton pad becomes clean.
4. No rinsing required.