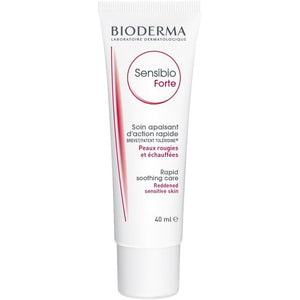 Sensibio Forte quickly relieves biological reactive signs related to inflammation (rubbing, aftershave rash, hair removal, peeling, post-laser, solar erythema, etc.) and increases the skin's tolerance threshold.

Its soothing active ingredients, including allantoin and a high concentration of enoxolone, quickly relieve reactive signs such as redness and overheating.

The D.A.F. (Dermatological Advanced Formulation) patented natural complex makes the skin less reactive. Beeswax and Xylitol, moisturising agents found in Sensibio Forte, combat the skin dehydration that often accompanies irritation and thus lastingly restore skin comfort.
A soothing treatment that quickly and lastingly relieves damaged skin.
Quickly relieves
Intensely soothes and moisturises
Lastingly restores skin comfort
Very good tolerance - Non-comedogenic - Unfragranced
Aqua/Water/Eau, Mineral Oil (Paraffinum Liquidum), Beeswax (Cera Alba), Propylene Glycol, Cetyl Alcohol, Glycyrrhetinic Acid, Glyceryl Stearate, Palmitic Acid, Stearic Acid, Sorbitan Sesquioleate, Tocopheryl Acetate, Mannitol, Xylitol, Rhamnose, Fructooligosaccharides, Laminaria Ochroleuca Extract, Allantoin, Sodium Pca, Caprylyl Glycol, Caprylic/Capric Triglyceride, Pentylene Glycol, 1,2- Hexanediol, Carbomer, Triethanolamine.
Morning and evening.
3 times a day in the event of intense redness and/or overheating

Apply Sensibio Forte on your skin after cleansing.
Apply less frequently once your skin has improved.