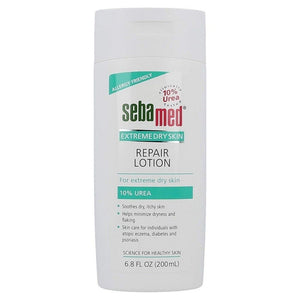 Extreme Dry Skin Repair Lotion with 10% Urea repairs your skin depleted lipids, relieving dryness with ultimate hydration. Formulated with 10% concentration of Urea provides rapid relief to extreme dry skin conditions and irritations of skin. This repairing lotion also contains Lecithin, Sweet Almond oil and Triglycerides to help in restoring lipid balance and prevent further moisture loss of the skin.

It soothes irritation and inflammation with humectant capacity to prevent excessive moisture. This skin repairing lotion with 10% Urea concentration to provide rapid relief to extreme dryness and irritations of the skin.


Water (Aqua), Hexyldecanol, Hexyldecyl Laurate, Urea, Coco-Caprylate/Caprate, Polyglyceryl-3 Polyricinoleate, Prunus Amygdalus Dulcis (Sweet Almond) Oil, Glycerin, Magnesium Sulfate, Cera alba, Caprylic/Capric Triglyceride, Lecithin, Ascorbyl Palmitate, Polyglyceryl-3 Diisostearate, Lactic Acid, Citric Acid, Fragrance (Parfum), Benzyl Alcohol, Phenoxyethanol, Sodium Benzoate


For extreme dry skin.
Conditions associated with atopic eczema, diabetes and psoriasis.
Chronic dry skin conditions.
Alleviates acute itching.
Relieves dry and flaky skin.
Smoothes rough and flaky skin.
Contains natural, skin-related ingredients for effective penetration.
Functions as a humectant to prevent excessive moisture loss.
The keratolytic effect caused by urea promotes the healthy peeling away of dry and dead skin.
Dermatologically / clinically tested.

Gently massage into whole body to ease the dryness.