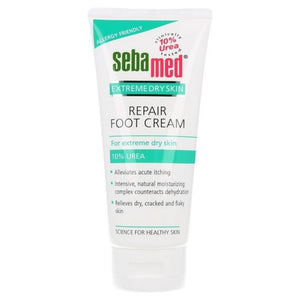 Repair Foot Cream 10% Urea powerfully hydrates your feet, relieving dry skin symptoms like itchiness and flaking with a high concentration of urea. Specifically formulated to repair dehydrated foot skin with moisturizing panthenol, a restorative lipid complex and moisture-binding lactates.

The hydrolyzed yeast protein is a natural way to smooth, hydrate and moisturize your skin, help fight against eczema. The ingredient centella asiatica leaf extract will work as an anti-aging catalyst, providing your skin with a youthful glow.

Fast relief of itchiness and flaking symptoms of very dry skin with concentration for immediate effect. Natural skin-related ingredient, humectant capacity prevents excessive moisture loss. Urea complex helps to peel away dead or dry skin.


Water (Aqua), Caprylic/Capric Triglyceride, Urea, Glycerin, Glyceryl Stearate Citrate, Panthenol, Tocopheryl Acetate, Hydrolyzed Keratin, Citric Acid, Sodium Hydroxide, Sodium Carbomer, Phenoxyethanol, Sodium Benzoate


For extreme dry skin.
Relieves acute itching .
Activates desquamation to smooth coarse skin.
Intensive moisturizing counteracts dehydrating effect.
Keratolytic effect helps remove callused and rough skin.
74% successful alleviation of roughness.
Alleviates acute itching.
Intensive, natural moisturizing complex counteracts dehydration.
Relieves dry, cracked and flaky skin.
Dermatology / clinically tested.

Gently massage a small amount of cream on hand to ease dryness.