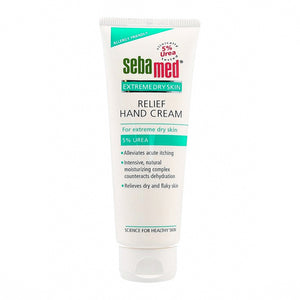 Relief Hand Cream 5% Urea is intensely hydrating to restore your skin's balance of moisture. It contains a 5% urea concentration to quickly relieve dry skin, immediately ridding you of symptoms like itching, scaling and tightness.

This formulated with a deeply nourishing lipid complex, supporting your natural lipids with luscious avocado and olive oil extracts. Natural skin-related ingredient with humectant capacity prevents excessive moisture loss. This Urea complex helps to peel away dead or dry skin.


Water (Aqua), Persea gratissima oil, Hydrogenated Olive Oil, Urea, Glycerin, Panthenol, Glyceryl Stearate Citrate, Cetearyl Alcohol, Hydrolyzed Keratin, Allantoin, Bisabolol, Citric Acid, Sodium Hydroxide, Sodium Carbomer, Phenoxyethanol, Sodium Benzoate


For extreme dry skin.
62% successful alleviation of dryness.
Alleviates acute itching.
Intensive, natural moisturizing complex counteracts dehydration.
Relieves dry and flaky skin.
Supports the skin's regeneration.
Active ingredients help your skin rejuvenate itself .
Panthenol relieves irritation and promotes skin cell regeneration.
Contains bisabolol for itch relief, allantoin to make your skin soft and glycerin to guard against dehydration.
Dermatologically / clinically tested.

Gently massage a small amount of cream on hand to ease dryness.