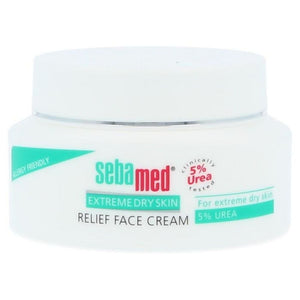 The Extreme Dry Skin Relief Face Cream 5% Urea is a gentle face cream that rejuvenates your facial skin, providing intense moisturizing effects. This moisturizing face cream formula is prepared with urea to rapidly relieve flakiness, tightness, itchiness and other uncomfortable symptoms of dry skin. Fast relief of itchiness and flaking with humectant capacity prevents excessive moisture loss. The urea complex helps to peel away dead or dry skin, intensive hydration to restore moisture balance.

It contains highly active plant-based ingredients derived from tiger grass to support your collagen production. This makes your facial skin softer and more elastic, smoothing lines caused by dryness, perfect for skin conditions like eczema, seborrheic dermatitis.


Aqua, Caprylic/Capric Triglyceride, Urea, Glycerin, Tocopheryl Acetate, Glyceryl Stearate Citrate, Panthenol, Cetearyl Alcohol, Asiaticoside, Asiatic Acid, Madecassic Acid, Bisabolol, Sodium Citrate, Sodium Carbomer, Benzyl Alcohol, Phenoxyethanol, Sodium Benzoate.


For extreme dry skin.
5% Urea helps to reduce flakiness, itchiness and redness of the skin.
Relieves irritation with panthenol.
Relieves itching with bisabolol.
The keratolytic effect of urea causes peeling to support smooth skin.
Conditions associated with atopic eczema, diabetes and psoriasis.
Chronic dry skin conditions.
Dermatologically / clinically tested.

Gently massage a small amount of cream on facial area after bathing to seal in moisture to ease dryness.