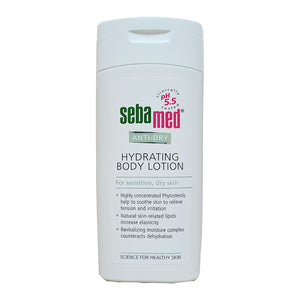 Hydrating Body Lotion regenerates dry skin conditions, increasing skin's moisture content and restoring lipid balance. Rapeseed helps to soothe sensitive, dry skin and relieves tension and irritation, roughness, tension and burning sensations, as well as skin redness. The pH 5.5 value as healthy skin supports and protects the natural barrier function of the skin's acid mantle, leaving the skin smooth and supple.

It restores lipid balance as natural skin-related lipids increase elasticity and nourishing composition with Shea butter acts as a natural UV filter, making the skin smooth and supple.


Water, Dicaprylyl Ether, Glycerin, C14-22 Alcohol, Butyrospermum parkii butter, Sodium Lactate, Brassica campestris Sterols, Tocopheryl Acetate, C12-20 Alkyl Glucoside, Potato Starch Modified, Xanthan Gum, Fragrance (Parfum), Phenoxyethanol.


For sensitive, dry skin.
Boosts hydration by 26% in 3 weeks.
Vitamin E neutralizes free radicals, improving elasticity.
Revitalizing moisture complex counteracts dehydration.
Active ingredient phytosterol is an equivalent anti-inflammatory effect to cortisone, but without the side effects.
Dermatologically / clinically tested.

After cleansing the skin thoroughly, massage the lotion gently into the skin.