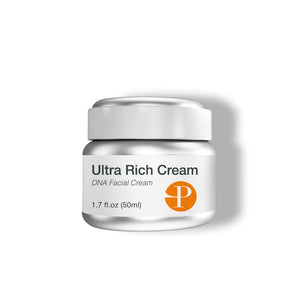 This luxurious moisturizer is designed to nourish and hydrate skin, restore skin barrier properties and add additional anti-aging benefits to your skin health regimen.

Rich in Superfoods, this buttery blend of our proprietary DNA repair enzymes, antioxidants and other plant based nourishing ingredients that melt into the skin and provide optimal hydration.

Clinically proven to moisturize the skin and treat photodamage.




Water, Vegetable Glycerin, Stearic Acid, Myristyl Myristate, Cetearyl Alcohol, Ceteareth-20, Glyceryl Stearate, Sodium Hyaluronate, Simmondsia, Chinensis (Jojoba) Seed Oil, Glycine Soja (Soybean) Oil, Cetyl Alcohol, Acrylates/C10-30 Alkyl Acrylate Crosspolymer, Butyrospermum Parkii (Shea) Butter, Calendula Officinalis Flower Oil, Passiflora Edulis (Passion Fruit) Seed Oil, Oryza Sativa (Rice) Bran Oil, Euterpe Oleracea (Açaí Palm) Fruit Oil, Camellia Sinensis (Green Tea) Leaf Extract, Palmitoyl Tripeptide-38, Xanthan Gum, Photolyase (Anacystis Nidulans) Endonuclease (Micrococcus Luteus), Glycosylase (Arabidopsis Thaliana), Phenoxyethanol, Ethylhexyglycerin, Sodium Hydroxide, Potassium Sorbate
Hydrates even the most dry and dehydrated skin.Packed with DNA Repair Enzymes to fight against photodamage.
Rich in Superfoods (Jojoba, Soybean, Shea Butter, Passion Fruit, Açaí, Green Tea) supplying your skin with a broad mix of antioxidants and fatty acids.
Restores skin barrier properties and adds additional anti-aging benefits.
Enhances and maintains the results of facial procedures.

1. Apply cream to clean face morning and night or as needed for maximum hydration.
2. Gently massage the cream into the skin using fingers in a circular motion.