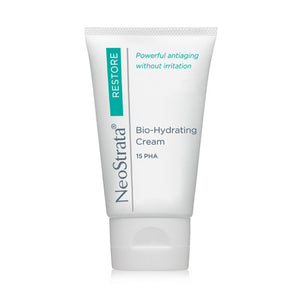 Highly emollient cream with potent Polyhydroxy Acids dedicated to reducing the visible signs of aging while providing long-lasting hydration.

This professional-strength emollient cream is formulated with 15% PHA (gluconolactone) for those unable to use glycolic acid but desires the benefits of a high strength AHA cream. Gluconolactone, a polyhydroxy acid (PHA), offers all the benefits of AHAs with gentler actions, making this comforting cream suitable for sensitive skin. Bio-Hydrating Cream provides long-lasting moisturising benefits.

This high strength emollient cream is designed to reduce the visible signs of aging and repair the barrier function of the skin. Exfoliates and restores youthful skin texture without irritating even the most sensitive skin.

Gluconolactone also inhibits the enzyme that can break down elastin, so it helps preserve skin's elasticity and suppleness. It is an ideal adjunctive therapy for patients using topicals such as retinoids that result in dry, sensitive skin. Hypoallergenic, non-comedogenic, and fragrance-free.


Water (Aqua), Gluconolactone, C12-15 Alkyl Benzoate, Propylene Glycol, Isododecane, PEG-40 Stearate, Sorbitan Monostearate, Isocetyl Alcohol, Stearyl Alcohol, Stearic Acid, Glyceryl Diisostearate, Cyclomethicone (Cyclopentasiloxane), TEA, Ethoxydiglycol, Dimethicone (Methylpolysiloxane), Butylene Glycol, Tocopheryl (Vitamin E) Acetate, Arginine, Disodium EDTA, Magnesium Aluminum Silicate, Xanthan Gum, Methylparaben, Chlorphenesin, Propylparaben


15% Gluconolactone high-strength formulation.
Reduces the visible signs of aging.
Vitamin E provides long-lasting moisturisation.
Ideal adjunctive therapy for topical retinoids.

More hydrating than Ultra Moisturising Face Cream. Ideal for rosacea, dry and sensitive skin types, and those who can't tolerate AHA's.

Apply to face and neck twice daily, following cleansing.

Daily use of sunscreen is recommended.