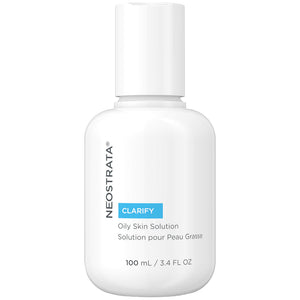 This hydroalcoholic solution contains 8% Glycolic Acid, an Alpha Hydroxy Acid (AHA), to exfoliate skin, and target clogged pores and excess surface oil.


• 8% GLYCOLIC ACID (AHA)

Aqua/Water/Eau, Alcohol Denat., Glycolic Acid, Propylene Glycol, Ammonium Hydroxide, Polyquaternium-10, Chlorhexidine Digluconate, Tetrasodium EDTA, Polysorbate 20.


Exfoliates skin

1. Apply to face, chest, back and other oily areas with fingertips or cotton pad.
2. Use after cleansing and throughout the day if needed, as tolerated.

Sunburn Alert:
This product contains an Alpha Hydroxy Acid (AHA) that may increase your skin's sensitivity to the sun and particularly the possibility of sunburn.

Use a sunscreen, wear protective clothing, and limit sun exposure while using this product and for a week afterwards.