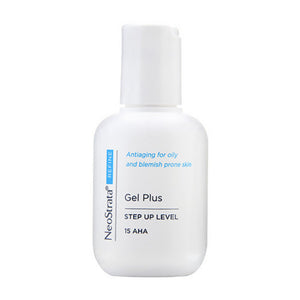 This lightweight gel is designed for experienced users of Glycolic Acid. Suitable for oily skin that may be prone to breakouts and ideal for use in hot, humid climates.


• 15% Glycolic Acid

Aqua/Water/Eau, Alcohol Denat., Glycolic Acid, Propylene Glycol, Ammonium Hydroxide, Polyquaternium-10, Tetrasodium EDTA.


Formulated to reduce the appearance of enlarged pores and signs of photoaging.
AHA formula smooths rough texture and evens skin tone.
Fragrance-free, oil-free.


Apply to face and other desired areas once daily for two weeks and twice daily thereafter, as tolerated.

Sunburn Alert:
This product contains an Alpha Hydroxy Acid (AHA) that may increase your skin's sensitivity to the sun and particularly the possibility of sunburn.

Use a sunscreen, wear protective clothing, and limit sun exposure while using this product and for a week afterwards.

Recommend for those not sensitive to Glycolic Acid.