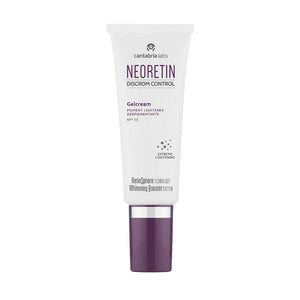 Neoretin Discrom Control GelCream SPF50- Easy to spread, invisible emulsion for daytime care of skin with spots.

In combination with hydraquinone for complementary lightening activity, greater tolerability for daytime use. In combination with skin lightening procedures (peeling, IPL, fractional non-ablative laser, dermoabrasion).


1% RetinSphere Technology
4% Whitening Booster System
8% Moisturizing System
1% Anti-irritants Actives

Daily skin lightening regimen for melasma, spots and uneven pigmentation.


Follow dermo-aesthetic procedures to prevent post-inflammatory hyperpigmentation.