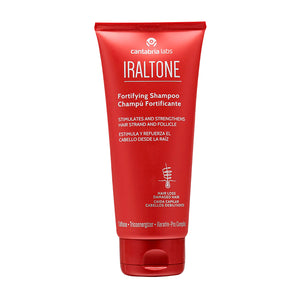 Fortifying shampoo with a system of active ingredients that act on the scalp, helping to stimulate the hair follicle, favouring growth, reinforcing keratin and restoring vitality and hydration to the hair, thanks to its energising and antioxidant power.

It acts on the hair shaft by repairing and restructuring the hair fiber, protecting it and strengthening it from the inside.


Caffeine,Tricoenergyzer,Keratin Pro-Complex

Stimulates hair growth.
Promotes keratin synthesis.
Repairs and protects the hair fibre.
Creamy texture that provides shine, hydration and softness


1. Frequent use.
2. Apply to damp hair.
3. Gently massage the scalp leaving it to work for 2-3 minutes.
4. Rinse with plenty of water until the product is completely removed.