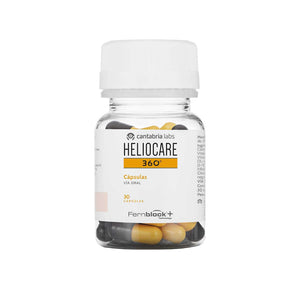 Capsules with an clever combination of ingredients that helps prevent photoaging, dark spots and other skin disorders resulting from sun exposure on all skin types.

With Fernblock®+, cysteine, vitamins and prebiotic combined with topical photoprotection, increase the skin's resistance to the sun from the first capsule. Gluten-free.


240 mg Fernblock®+, 75 mg Cysteine (N-acetyl),4.5 mg Niacinamide, 20 mg Vitamin C, 2 mg Vitamin E, Prebiotics: Fibruline and Bioecolians


Protection.
Sun damage repair.
Antioxidant.
Prevention of photoaging and dark spots.
Effective from the first capsule.
Gluten-free.


Take 1 capsule daily before sun exposure.

Do not exceed the recommended daily dose.