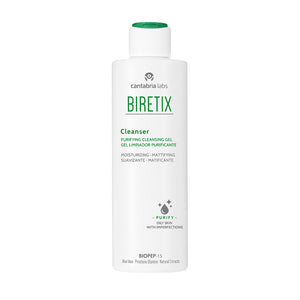 Daily cleanser that regulates excess oil and reduces the proliferation of microorganisms. Formulated with BIOPEP 15 and enriched with soothing and antioxidant active ingredients that remove impurities without drying the skin. Tested under dermatological and ophthalmological control.


Sebo-regulating and purifying cleanser.
Hydrating, mattifying and softening.
Tested under dermatological control.
Tested under ophthalmological control.


BIOPEP-15, Piroctone olamine,Aloe vera,Hamamelis virginiana extract,Propolis extract,Algae extract.


1. Apply morning and night with a light massage on wet skin.
2. Leave on for 1-2 minutes.
3. Rinse with plenty of water.