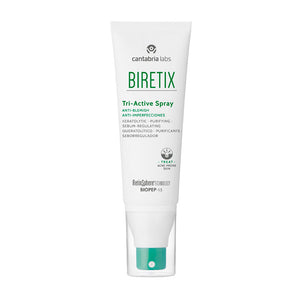 Easy-to-apply body spray that reduces spots and marks in large areas such as the chest and back. Its formula incorporates exclusive RetinSphere® Technology and its innovative active ingredient BIOPEP 15 that reduces the proliferation of microorganisms, combined with exfoliating and depigmenting ingredients.

It helps control fat production, improves skin texture and corrects acne body blemishes and scars. Tested under dermatological control.


3600 spray for the chest and back.
Anti-imperfections.
Reduces hyperpigmentation and marks.
Removes impurities and excess oil.
Invisible finish.
Immediate absorption.
Tested under dermatological control


RetinSphere® Technology (hydroxypinacolone retinoate and retinol glycospheres)
BIOPEP 15
2% Salicylic acid
15% Glycolic Acid
4% Niacinamide



1. Shake before use.
2. Apply the product to cleansed skin once or twice a day in the affected areas.

For better application, the innovative spray valve allows the product to be sprayed in any position, even upside down. Apply once or twice a day, preferably at night.