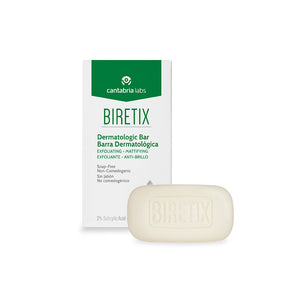 Dermatological bar with antibacterial and sebum-regulating active ingredients, improves the appearance of the skin and deep cleans respecting the pH of the skin barrier.

Formulated with Syndet technology with good foaming and cleansing capacity. It works delicately and effectively on acne-prone skin.


Exfoliating and Mattifying effect.
Reduces inflammation and redness.
Sebum regulating action.
Antibacterial activity.
Perfume without declared allergens.
Tested under dermatological control.


Syndet Base, Salicylic acid,Niacinamide,BIOPEP-15,Zinc Sulfate



1. Daily use in the morning and evening.
2. Apply to wet skin on the face and/or body.
3. Rinse immediately.