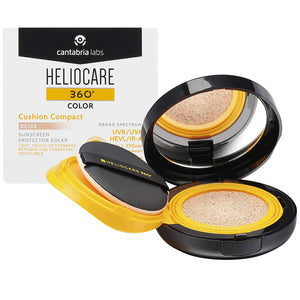 Its innovative cushion format combines the benefits of a fluid photoprotector and the convenience of compact makeup. It allows, in a single step, to retouch makeup and reapply photoprotector. Noncomedogenic, hydrating, hypoallergenic and water resistant formula.

It meets the highest photoprotection standards. With Fernblock®+, specific filters and repairing and antioxidant active ingredients, it protects against the 4 types of radiation (UVB, UVA, Visible and Infrared), neutralises and repairs sun damage. Available in 3 shades and with adjustable coverage, it is a solution that allows reapplication of photoprotection with a natural and unifying tone. Tested under dermatological and ophthalmological control.


Optimal and stable combination of Fernblock® +,Glycosylase, Physavie, OTZ 10, Biomimetic melanin


Broad spectrum protection (SPF50+, PA++++, Visible and Infrared).
Sun damage repair.
Antioxidant.
Cushion format.
Adjustable coverage.
Hydrating.
Noncomedogenic.
Water-resistant.
Hypoallergenic.
Tested under dermatological control.
Tested under ophthalmological control.
2 shades available (pearl and beige).


1. Press the applicator on the sponge impregnated with fluid photoprotector and apply to the face with light touches.
2. Reapply several times until desired coverage is achieved.
3. Close the inner lid tightly to preserve the properties of the product.