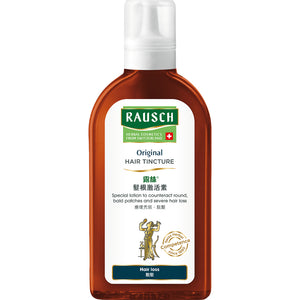 For early signs of hair loss.

Tones and stimulates blood circulation, strengthens the scalp and noticeably promotes hair regrowth. Burdock root extract and essential oils have a mildly antiseptic effect and help regulate the functions of the scalp.

It is bacteriostatic and fungicidal properties are suited for long term treatment. It was proven up to 44% fewer hair were in the resting phase (Telogen phase) hence, further hair loss was prevented
The hair's structure is enhanced, and the hair becomes stronger and easier to manage.

• Counteracts hair loss.
• Stimulates blood circulation in the scalp.
• Strengthens the scalp with lasting effect.
• Promotes hair growth.
• Suitable for long term use and can be used daily.

Alcohol Denat., Aqua, Arctium Lappa Root Extract, Citrus Limon Peel Oil, Pisum Sativum Sprout Extract, Citrus Aurantium Dulcis Peel Oil Expressed, Denatonium Benzoate, Limonene, Parfum, Linalool, Benzyl Alcohol, Citral, Geraniol
Apply a few drops directly to the scalp. Gently massage into the scalp. Do not rinse.