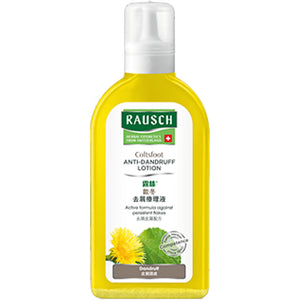 For dry dandruff and itchiness.

Dry, flaky dandruff isn't a problem with the hair, it's a problem with the scalp. Dandruff is often accompanied by itchiness, redness and a dry scalp.

Our Coltsfoot ANTI-DANDRUFF LINE removes dandruff from the scalp with lasting effect and is especially mild, reducing redness and itchiness. It reduces the proliferation of yeast-like fungi, which often cause dandruff owing to their excessive growth. For beautiful, healthy hair from root to end.

Proven to reduce dandruff. Dandruff decreased significantly** by 83% with use of Coltsfoot ANTI-DANDRUFF SHAMPOO three times a week for four weeks in combination with the Coltsfoot ANTI-DANDRUFF SHAMPOO.
Effective care for dry dandruff and itchiness.

Removes dry and oily dandruff with lasting effect; alleviates redness and itchiness. For a noticeably fresh, healthy scalp. With precious extracts of coltsfoot, balm and burdock root as well as dermatological elemental sulphur.

• Suitable for all hair types.
• Dry, flaky, itchy or reddened scalp.
• Removes dandruff with lasting effect.
• Plant-based, gentle and mild.
• Soothes and regulates the scalp.
• Very gentle on skin.
• Free from parabens and silicone.
• 98% ingredients of natural origin.

Aqua, Alcohol Denat., Glycerin, Melissa Officinalis Flower/Leaf/Stem Water, Arctium Lappa Root Extract, Tussilago Farfara (Coltsfoot) Leaf Extract, Sulfur, Camphor, Denatonium Benzoate, Parfum, Linalool, Hexyl Cinnamal, Geraniol, Citral, Alpha-Isomethyl Ionone, Limonene, Citronellol, Coumarin, CI 47005
1. Shake the lotion well and twist the cap open fully.
2. Apply evenly to dry scalp and gentle massage in.
3. Allow the product to take effect for several hours or overnight, then rinse.

Use 2 or 3x weekly.
Use daily if you experience more severe dandruff.