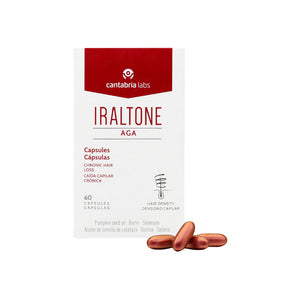 Food supplement that has been formulated for the management of chronic hair loss due to hormonal problems, strengthening of the hair fibre, maintaining hair density and with powerful antioxidant activity.

Iraltone AGA provides trace elements and vitamins that help keep hair in normal condition. Zinc, copper and selenium along with vitamin C and E that protect the hair bulb cells from oxidative damage. Gluten-free and lactose-free.


Pumpkin seed oil (Cucurbita pepo),L-Cystine,Group B Vitamins,Vitamins C and E,Minerals (zinc, copper and selenium)

Regulates Chronic Hair Loss.
Improves Hair Density.
Powerful Antioxidant.
Gluten-free.
Lactose-free


Take one capsule a day, preferably in the morning with a glass of water.