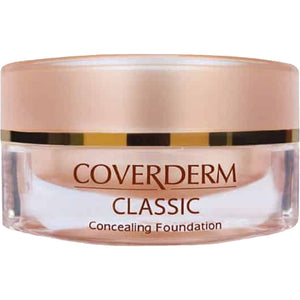 Classic is the only make-up that perfectly conceals major skin imperfections such as birthmarks, psoriasis, ichtyosis, burns, moles, dark marks, post-operative or other scars and bruises, intense rosacea and tatoos.

Maximum coverage:
It covers even the most intense discoloration and ideally evens out irregular skin surfaces like scars and burns.

Maximum protection:
It has a n SPF30 with natural filters that inhibit UVA and UVB sun radiation to penetrate the epidermis.


Ideal for skin imperfection & discoloration such s Angiomas, burns and even scars:
•Waterproof
•No water formula
•Hypoallergenic
•SPF30
•Does not clog pores
•Easily applied
•Natural filters
•Suitable for all skin types


Liquid Paraffin, White Petrolatum, Liquid Petrolatum, Huile Minerale, Paraffine, Mineral Oil, Nujol, Adepsine Oil, Bees Wax, Beewax, Cera alba, Cire D'abeille, Cera Flava, White Beeswax, Titanium(IV) Oxide, TiO2, CI77891, CI 77891, Titanium Dioxide, Titanium Oxides, Titania, Magnesium Carbonate, CI 77718, Talcum, Talc Powder, Propyl Paraben, Propyl parahydroxybenzoate, Propyl p-hydroxybenzoate, propyl 4-hydroxybenzoate, Nipasol M, Propyl Hydroxybenzoate, Fragance, Fragrances, Perfumery, Flavor, Aroma, Fragrance, Perfume, Pigment Red 101, Iron oxide Red, Red Iron oxide, Red Oxide of Iron, Pigment Yellow 11, Iron oxide Yellow, Yellow Iron oxide, Yellow Oxide of Iron, Hydrated ferric oxide, Pigment Black 11, Black Iron Oxide, Iron Oxide Black, Black Oxide of Iron, Pigment Blue 29, Ultramarines, Ultramarine, Ultramarine Blue


Apply the make-up with your fingertip or with a sponge, tapping gently with small and quick movements for perfect application. Blend over the rest of your face to smooth out any lines on the edges.