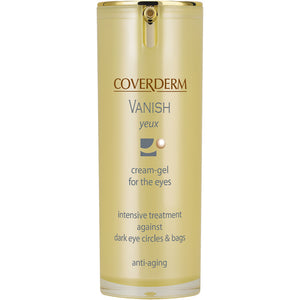 Coverderm Yeux is the advanced eye cream-gel, clinically proven synergistic action that acts against the microcirculation disturbances and visibly diminishes the appearance of dark eye circles, eye bags, and puffiness. Formulated with Retinol, Hyaluronic Acid, Phytosphingosine, Fraxinus Excelsior, Bark Extract and, Silanetriol for the sensitive area around the eyes offer anti-wrinkle, firming & anti-irritant action.

MDI Complex - The first cosmetic ingredient produced out of pure biotechnology research, extensively tested in the laboratory and clinical studies, proved its efficacy as a potent molecular complex to dramatically improve the effects caused by circulatory disturbances of the skin.

MDI Complex is a marine-derived active ingredient developed biotechnological molecules called matrix metalloproteinase inhibitors (MMPIs).

Fucoidan, Escin, Caffeine - powerful combination of Fucoidan, Escin, Caffeine in liposome form. Protects the integrity of micro-capillaries, strengthens the weak veins, and improves micro-circulation. Liposome form secures increased bioavailability through deep penetration in the skin.


The Coverderm Vanish product range offers the most powerful synergistic action of MDI Complex & Fucoidan, Escin, Caffeine in liposome form to:

•Strengthen the area of skin around the blood capillaries.
•Reinforce the extracellular matrix of the skin.
•Provides a protective "net" against the degradation of the connective tissue surrounding the microcapillaries.
•Visibly lightens up dark circles under the eye (75% of volunteers showed a visible decrease of dark circles after 8 weeks).
•Ophthalmologically tested.
•Suitable for all skin types.


MDI Complex, Fucoidan, Escin, Caffeine in liposome form, Retinol encapsulated, Hyaluronic Acid, Fraxinus Exelsior Bark Extract, Silanetriol, Phytosphigosine


Apply twice daily on the sensitive under-eye area, preferably in combination with Vanish Serum for optimum results.