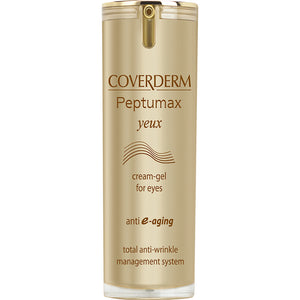 Peptumax treatment products contain bio-mimicking peptides that effectively fight all four major causes of wrinkles. An excellent eye cream gel specifically designed for the delicate eye area.

Acetyl Hexapeptide-8 and Acetyl Octapeptide-3 reduce fine lines and wrinkles caused by facial expressions.

Palmitoyl Oligopeptide and Palmitoyl Tetrapeptide-7 reduce deep and medium wrinkles caused by skin aging by stimulating the reconstruction of the extracellular matrix.

Phytosphingosine and Diaminopropionic Tripeptide-33 prevent photoaging and the formation of new wrinkles.


Revolutional combnation of advanced technology active ingredients and peptides that mimic the skin defense.

• Prevent or correct wrinkles caused by repeated facial expressions.
• Stimulate the collagen synthesis of the fibroblasts delaying the aging process.
• Protects against photo-aging.
• Protects and repairs DNA
• Depth of wrinkles decrease up to -37%
• Number of wrinkles decrease up to -48%
• Moisturization increase up to +46.5%
• Skin elasticity increase up to +100%
• E-ageing, caused by electro-magnetic radiation and high-energy visible light / blue light given off by electronic devices.


Acetyl Hexapeptide-8 & Octapeptide-3,Nasturtium Officinale Extract, Palmitoyl Oligopeptide & Tetrapeptide-7


Apply morning and night around the eye.