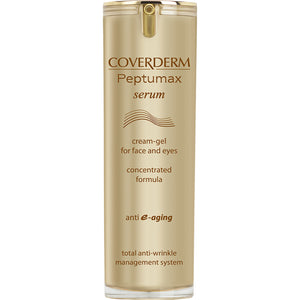 Peptumax serum combats all four causes of deep and medium wrinkles. Pioneering bio complex with stunning, synergistic anti-oxidative action effectively prevents and protects against e-aging by actively fighting the oxidative stress caused by blue light and electromagnetic radiation (EMR) emitted by all electronic devices.

•Acetyl Hexapeptide-8 and Acetyl Octapeptide-3 reduce fine lines and wrinkles caused by facial expressions.

•Palmitoyl Oligopeptide and Palmitoyl Tetrapeptide-7 reduce deep and medium wrinkles caused by skin aging, by stimulating the reconstruction of the extracellular matrix.

•Phytosphingosine and Diaminopropionic Tripeptide-33 prevent photoaging and the formation of new wrinkles.


Revolutionary combination of advanced technology active ingredients and peptides that mimic the skin defense. •Prevent or correct wrinkles caused by repeated facial expressions.
•Stimulate the collagen synthesis of the fibroblasts delaying the aging process.
•Protects against photo-aging.
•Protects and repairs DNA.
•Depth of wrinkles decrease up to -37%
•Number of wrinkles decrease up to -48%
•Moisturization increase up to +46.5%
•Skin elasticity increase up to +100%
•E-ageing, caused by electro-magnetic radiation and high-energy visible light / blue light given off by electronic devices.


Acetyl Hexapeptide-8 & Octapeptide-3,Nasturtium Officinale Extract,Palmitoyl Oligopeptide & Tetrapeptide-7,Venuceane,Diaminopropionyl Tripeptide-33


Apply serum on your face, neck and eye area, before the application of Peptumax Visage and Peptumax Yeux.