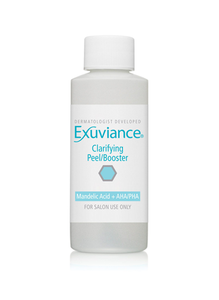 Enhance the peel benefits with boosters formulated to target specific skin concerns:
Revitalizing Antioxidant Peel Booster: Contains Citric Acid, a potent antioxidant,to target fine lines, wrinkles and photoaging. Comes in 1.5 ml pad
Revitalizing Clarifying Peel Booster: Contains a potent blend of Mandelic and Glycolic Acid, plus Gluconolactone to target acne scarring, acne, oily skin and uneven pigmentation. Comes in 1.5 ml pad 
*Exuviance Application Brushes are also available to apply the Peels
In conjunction with a daily regimen of Exuviance skincare products, the Exuviance Revitalizing Peel System can help improve fine lines, wrinkles, uneven pigmentation, photodamage, acne, acne scarring and excess surface oil.